LUCKNOW: Can the pitch here introduce an element of uncertainty in India's dominant run? Captain Rohit Sharma, coach Rahul Dravid, ace finger spinner Ravichandran Ashwin and bowling coach Paras Mhambrey spent quite a bit of time with the curator and ground staff on Saturday.At one point, the captain didn't look too happy with the state of things and pointed out certain areas of the pitch, even bending down and feeling some areas with his hands as local staff looked on.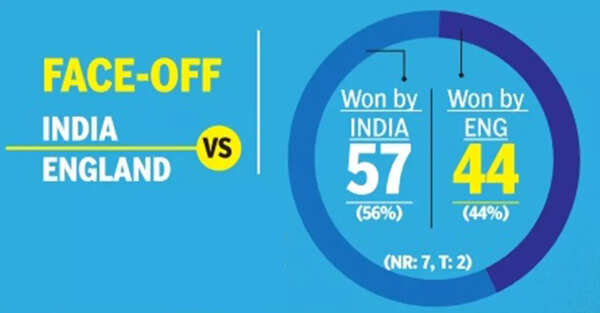 Shubman Gill too carried out his own inspection later. Ground staff subsequently were seen working on things till well past the team had finished its nets.Earlier this year in January, after a low-scoring T20I game against New Zealand, Hardik Pandya had termed the Lucknow surface "a shocker of a pitch". The square has been relaid since then, and India will be hoping the red soil surface, on which two World Cup games have already been placed, doesn't act up or have in consistent bounce.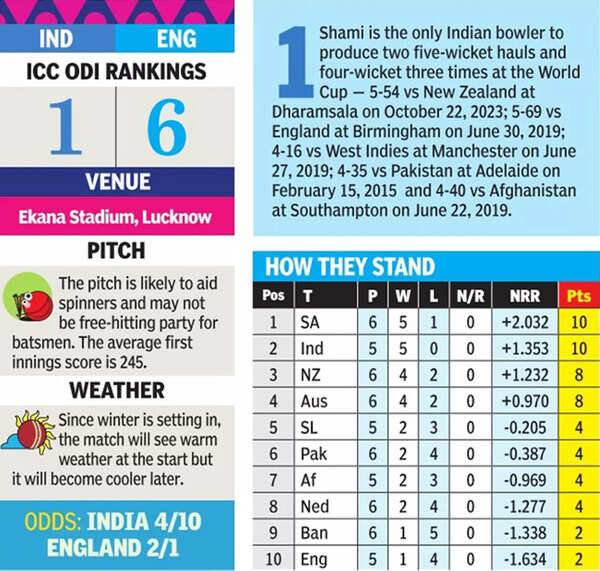 This is the same pitch on which South Africa scored 311/7 batting first against Australia on October 12, so there are runs in it, though the Aussie batters couldn't get going later on.
The lack of Hardik Pandya means India have to drop either Mohammed Shami – who took a fifer in the previous game against New Zealand in Dharamshala – or Mohammed Siraj to accommodate an extra spinner on this supposedly slow surface. Ashwin was the only bowler on view in the bowling nets, but it was a short stint.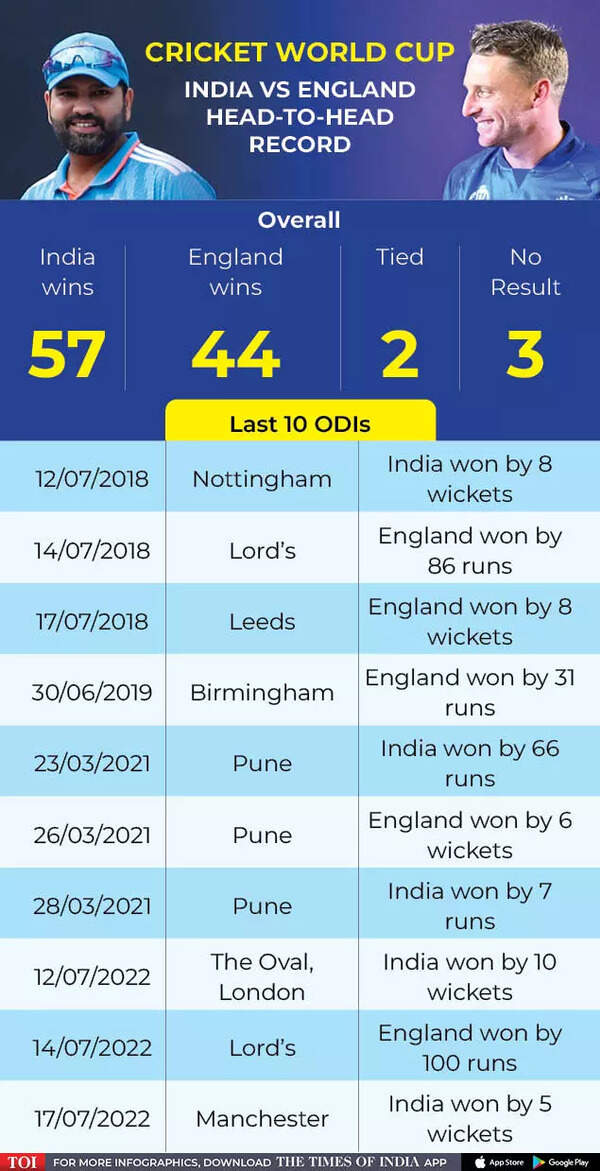 While teams like England chop and change incessantly to break a rut and dig an even bigger hole for themselves, India seem complete – they can walk into this game with three seamers if they wanted, or three spinners if they wanted, or a batter less if they really wanted to test themselves, and either way seem dominant.The captain has shown he is willing to retain a winning combination, but it seems anyone from the bench is strong enough to just walk into this side.
Cricket World Cup crisis for Team India: Hardik Pandya's injury casts doubt on his 2023 world cup journey
Asked to explain why this Indian seemed to have an extra edge to it, and why it looked different to sides from the past, the unflappable KL Rahul said, "As an outsider if I have to view the team, I think it's just how we've been really aggressive. Our preparations have been really, really good and very particular, very spot-on, at least from the time I've come back into the team (he injured himself during the IPL) since the Asia Cup."The players have got enough chances and enough time in their particular role. It goes down to preparation. We've prepared really well. So that's where the confidence is coming from."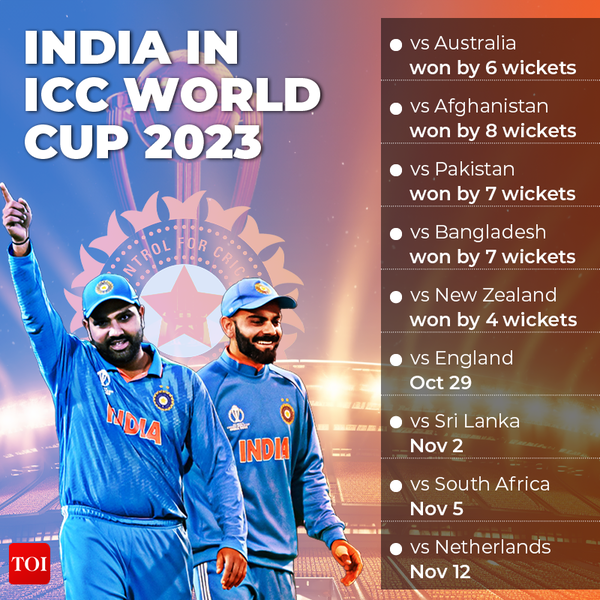 England, meanwhile, are the opposite. A glorious white-ball era is threatening to come to a miserable end, and now it's all about picking up the pieces.Assistant coach Marcus Trescothick, while vehemently denying that England had deprioritized the ODI format, didn't mince his words when he said, "(Slow wickets) have always been a challenge for us. (The game) will be good preparation for some of the boys who will be back in January for the Test series. We haven't got the runs. We haven't got the backing. We're all feeling the heat and stuff."