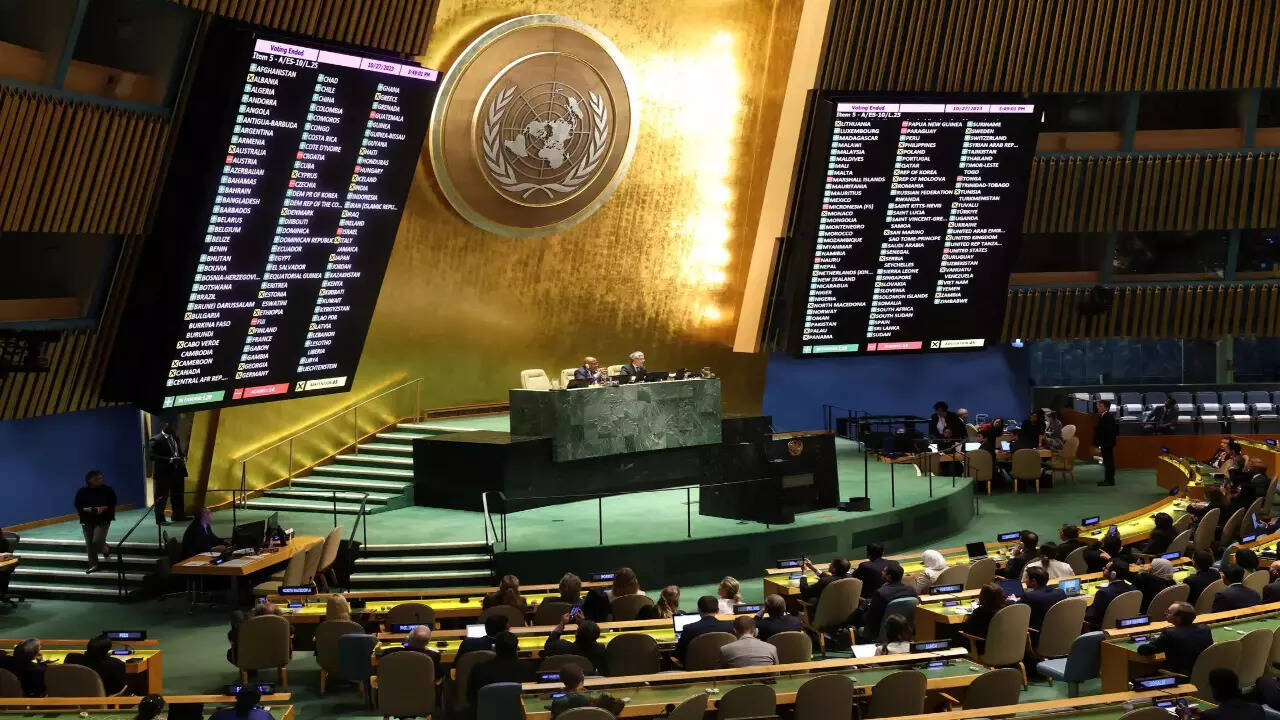 NEW DELHI: The General Assembly of united Nation overwhelmingly adopted a non-binding resolution calling for a Gaza ceasefire. The resolution introduced ny Jordon garnered 120 votes in favour, with 14 against, and 45 abstentions. The vote took place as Israel expanded ground operations and cut off communication and internet services in Gaza. It is notable that the resolution does not mention the hamas terror group.
Gaza Crisis at UN: Russia and China veto U.S. resolution on Israel-Hamas conflict
Countries that voted against the resolution include the United States, Austria, Croatia, Czechia, Fiji, Guatemala, Hungary, Israel, Marshall Islands, Micronesia, Nauru, Papua New Guinea, Paraguay, and Tonga. On the other hand, 45 countries, including India, Australia, Canada, Finland, Germany, Greece, Iraq, Italy, Japan, the Netherlands, Poland, South Korea, Sweden, Tunisia, Ukraine, and the UK, abstained.
'Hamas is coward, hiding behind Palestinian civilians ': Biden slams terror group at joint briefing with Australian PM Albanese
The resolution's key points include an immediate ceasefire in Gaza, the release of all civilians, the protection of civilians and international institutions, and ensuring the safe passage of humanitarian aid into the Gaza Strip.It is important to note that this resolution is symbolic and emphasizes the widespread international support for the Palestinians during Israel's military campaign following the October 7 Hamas offensive.Canada attempted to amend the resolution to include a condemnation of Hamas. While a majority of members supported this proposal, it did not reach the two-thirds majority required for adoption.Calling the UN resolution 'infamy', Israel reacted by saying that the vote shows majority of international community prefers to support 'defense of Nazi terrorists' instead of Israel.