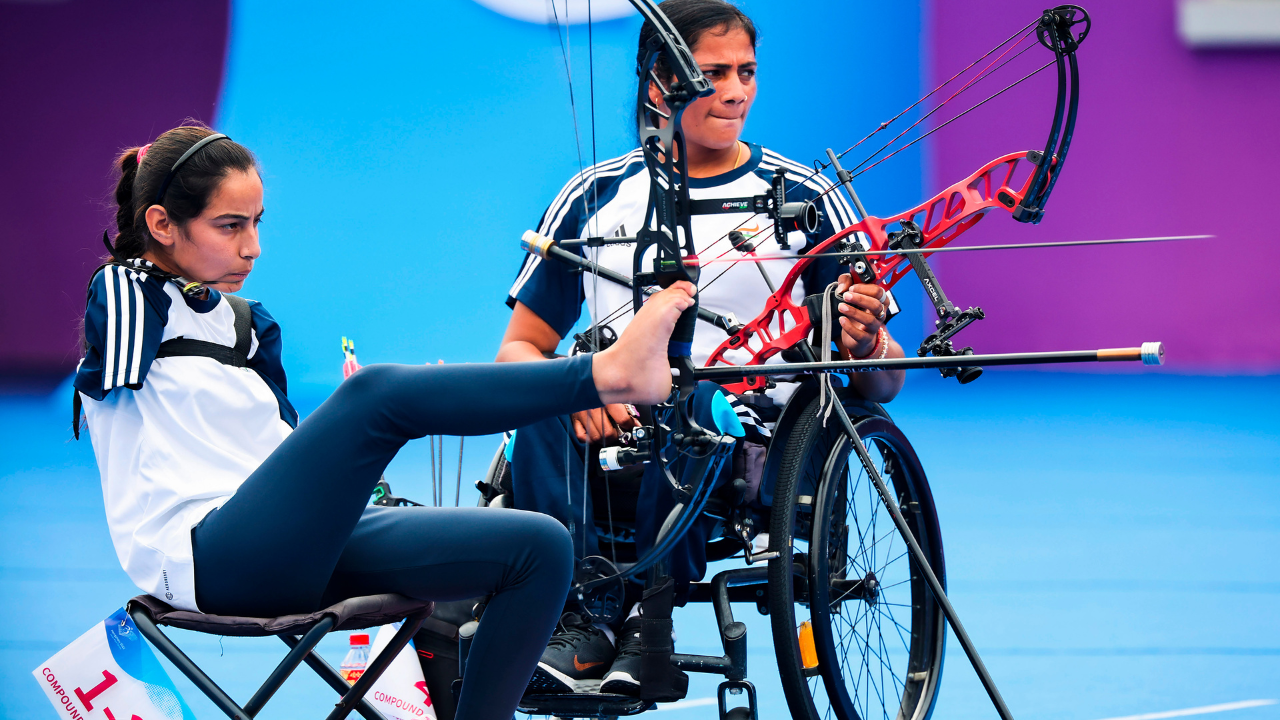 India is poised to record its best-ever performance in the history of the Asian Para Games. The country is set to breach the coveted 100-medal mark for the first time on the final day of competitions in Hangzhou Saturday, with the differently-abled athletes expected to claim another handful of medals in para athletics, chess and rowing events.Neeraj Yadav (javelin F55) and Dilip Gavit (400m T47) are primed for podium finish, while in chess, Kanishri Raju Prema (individual rapid ) and Kishan Gangolli (individual rapid B3) are strong medal contenders.In rowing, the mixed doubles sculls team in PR3 category can fancy its medal chances. India's para athletes have already ensured the nation celebrates a historic milestone, with the overall medal count touching an impressive 99, including 25 gold, till the end of the events on Friday.
Three world records in para athletics
This is a 37.5% increase over the 72 medals won at the 2018 Para Asiad. The 25 gold medals won in Hangzhou is 75 percent increase over 15 gold clinched in Jakarta in 2018. Before coming into this edition, India had previously won 14 medals at the 2010 edition, 33 in 2014 and 72 in 2018. It's the country's best-ever show as it is currently ranked fifth in the medal tally as compared to the previous best of ninth achieved in 2018.India had sent its largest-ever contingent for the Games with 303 sportspersons (191 male and 112 female). Out of the 99 medals won so far, female athletes have won 37 medals, which is 36.7 percent of the overall count. The country's athletes participated in 17 sports and bagged medals in 11 disciplines, with athletics bringing in the most – 51 medals, followed by badminton (21), archery (7), shooting (6) and canoeing (4).India's para athletes swept the podium in club throw F51 (Pranav Soorma, Dhrambir and Amit Saroha), javelin throw F46 (Sunder Singh, Rinku Hooda and Ajeet Singh) and discus throw F54/55/56 (Neeraj Yadav, Yogesh and Muthuraja) events, while recording multiple podium finishes in athletics (nine events), badminton (seven), powerlifting and shooting (one each).Friday Highlights: Asian Para Games 2023Three World, 10 Asian and 14 Asian Para Games records were broken in para athletics, followed by three World and Asian records each in para archery and one Asian Para Games record in para shooting.India also won its first-ever medal (by Aruna Tanwar) in para taekwondo and the first-ever gold (by Prachi Yadav) in para canoeing event. The government's financial intervention played a crucial role in India's success in Hangzhou, with a significant rise in the number of athletes supported through the Target Olympic Podium Scheme (TOPS) – from nine athletes in 2015 to 49 in 2023.For para athletes, the government put a special emphasis on sports science with 294 experts hired in 2023 as compared to 64 in 2018. There was specialised support for the Hangzhou Para Asiad post Tokyo Paralympics (October 2021), with the Sports Authority of India (SAI) sending the country's para athletes to 64 foreign exposure trips and organising 35 national camps, including 12 international exposure assignments for para badminton team and 13 for para athletics.
Asian Games 2023: India concludes its campaign with a record 107 medals, comprising 28 gold