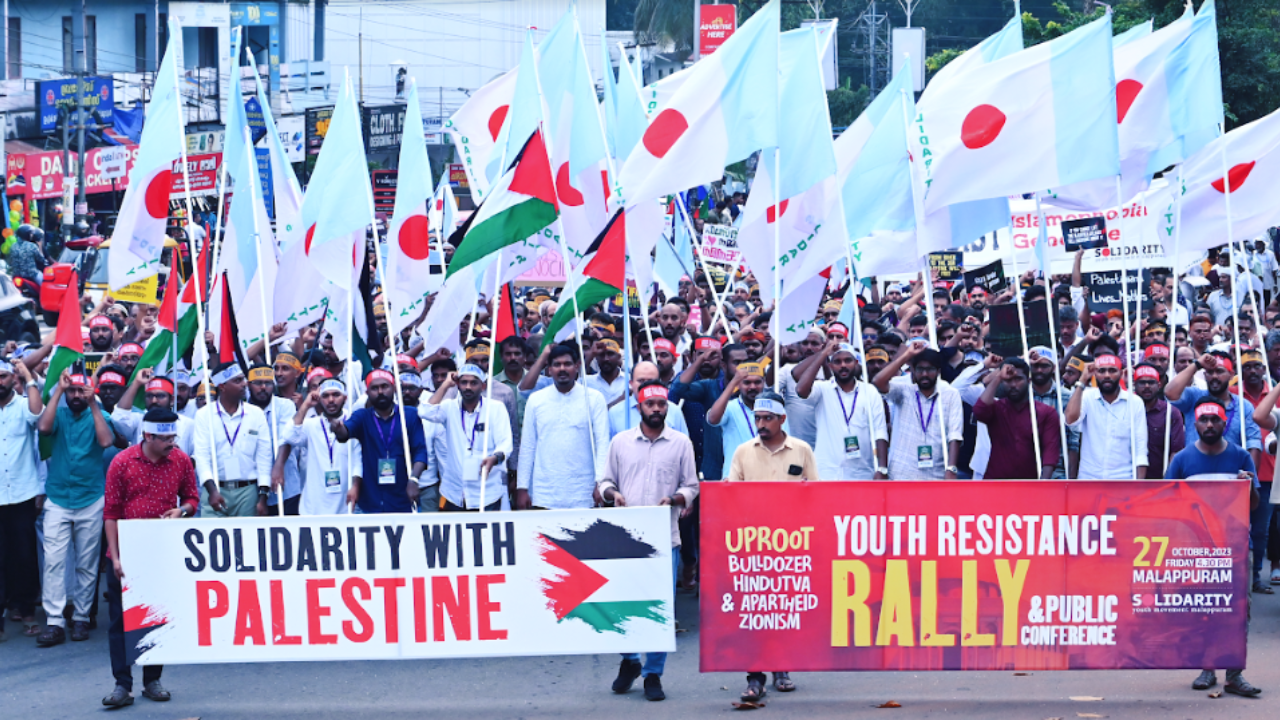 KOCHI: Former chief of Hamas, Khaled Meshaal, virtually addressed a pro-Palestine rally held in Malappuram district of Kerala on Friday.
The "Youth Resistance Rally" with a tagline of "Uproot Bulldozer Hindutwa and Apartheid Zionism" was organised by Solidarity Movement, an organisation under the state unit of Jamaate Islami Hind.The visuals of the rally held in Malappuram town shows that Meshaal addressed the rally in Arabic and it was a pre-recorded visual.
The post-event press note issued by the organisers had described Khaled Meshaal as a "freedom fighter".The organisers had earlier announced that another leader of Hamas, Ismail Haniyeh will also virtually address the rally, apart from Meshaal. But Haniyeh was unable to attend.
Strongly coming up against the presence of Hamas leaders in the Malappuram rally, the state president of BJP K Surendran said that Khaled Meshaal's address at the rally is alarming. "Where is Pinarayi Vijayan's police? Under the disguise of 'Save Palestine' they are glorifying Hamas, a terrorist organisation and its leaders as 'warriors'. This is unacceptable", he wrote on the social media platform X, where he shared a photo of the virtual address of Khaled Meshaal at the rally.
But, the organisers has justified the virtual presence of Meshaal in the rally. According to a statement issued by C T Shuhaib, the state president of Solidarity organisation, there is nothing unusual in the participation of Hamas leader in the rally as "Hamas" is a "resistance movement"."The Palestinian Legislative Council (PLC) is an influential movement in Gaza and the West Bank. The party won 74 out of 132 seats in the last election. There is nothing unusual about the leader of such an organization speaking at a Palestinian solidarity event in Malappuram. Hamas is not an active or banned organization in India. So, the presence of a Hamas leader in the event is not against law", says the statement."Sangh Parivar is carrying out a conspiracy to label those who stand in solidarity with Palestine as terrorists by spreading false propaganda. By doing so, they are trying to suppress the public protests against India's support to Israel. Such attempts will not succeed. There will be many more solidarity events in India which will prove that the support of the Indian people will be for Palestine", added the statement.Solidarity has decided to go ahead with similar programs and campaigns against the Hindutva-Zionist alliance, it says.