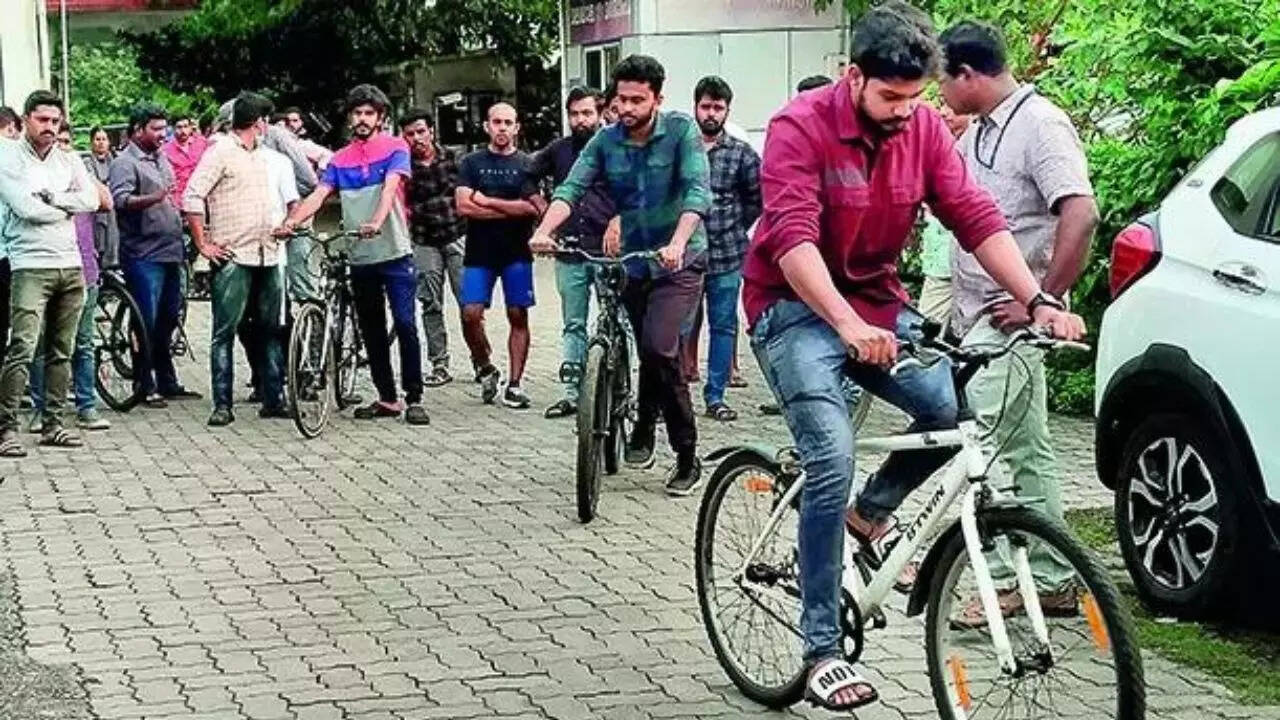 KOCHI: The qualification sought was Class 7-pass, plus the ability to ride a bicycle. Yet, early on Friday in Kerala's Ernakulam, scores of BTech holders and graduates queued up to apply for the job of government office peon, paying around Rs 23,000 a month, reports Sreemol TC. It's a "secure job", with none of the risks of, say, joining a ride-hailing or food delivery platform, said aspirants.Besides, there is no graveyard shift, one pointed out.Curiously, the bicycle is no longer the mode of transport but the rule has not changed yet. Some 101 candidates cleared the 'cycling test'. They have an endurance test and a long wait for the 'rank list' to look forward to.For Kerala peon's job, one must pass Std VII & know to bicycle. BTechs too went for the rideScores of qualified engineers queued up early Friday in Ernakulam in Kerala to apply for the job of government office peons. One only had to be seventh standard-pass, with the ability to pull off a delicate balancing act: Ride a bicycle.
The basic salary for a peon in Kerala is around Rs 23,000 per month. For many of the B.Tech holders who turned up for the cycling test, a menial job in a government office is less risky and more secure than being part of the gig economy (as so-called "executives" with one of the ride-hailing and online food delivery services) or doing a graveyard shift for around Rs 11,000 a month in big tech firms.
"If we are appointed in companies like KSEB (the state power utility), the salary will be even more – above Rs 30,000," said Kochi resident K Prasanth, who has a diploma in banking and runs a cafe. "I have been trying to get a secure job with a good income for the past few years," he added as he waited to take the test.
Though it serves no practical purpose, the state Public Service Commission continues to insist on cycling tests for the peon's post in public sector agencies like KSEB and KSFE (Kerala State Financial Enterprises). Officials plead helplessness, saying the state has not yet changed the old rules."The cycle was the mode of transport for office assistants. Though modes of transport have changed, the government has not changed this rule. Female and physically disabled candidates are exempted from the test. Cycling tests were mandatory for various jobs under 'last grade servants' earlier but the government ended that around 10 years ago. Now the test is mandatory for office assistants only," said a PSC official.
J&K: DE&CC Kupwara organises job fair for educated unemployed youth and job seekers
Vivek, a BTech graduate from Kochi who also turned up for the test, said securing a job with a lucrative salary has become a challenge in the depressed job market.According to the Union ministry of labour and employment, Kerala had the highest number of jobseekers registered with employment exchanges in 2022 at 5.1 lakh. Of these, 3.2 lakh are women, also the highest in the country. The grim numbers were mirrored in the Ernakulam queue. The cycling ordeal over, all 101 candidates successful in the test now have an endurance test ahead.
Fake Gulf job promise: All you need to know about the gang that targeted 5000 people