LUCKNOW: India's World Cup campaign officially gained invincibility status on Sunday. Poor England. Down and out on their luck, they were seemingly having a good time until first Jasprit Bumrah (3/32 in 6.5 overs) and then Mohammed Shami (4/22 in 7) — those two fiery, relentless avenging angels of pace and fizz and seam and genius —turned the new white ball into a screaming, spherical weapon of mass destruction under lights. The pace duo's effort killed any ambitions Jos Buttler's men may have nurtured about resurrecting their doomed campaign. It also gave India their sixth consecutive victory. Clearly, this is not a team that believes in the law of averages.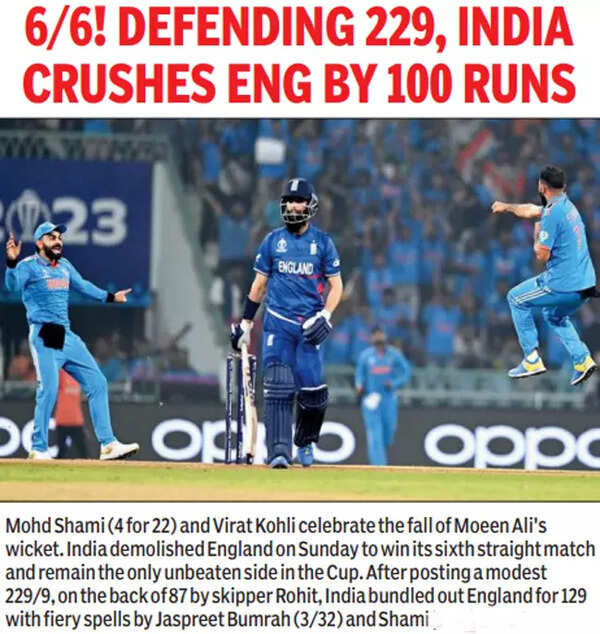 India won by 100 runs in 34.5 overs after putting up what at first looked a below-par 229/9 batting first. Chasing 230 on a challenging pitch where even some of India's best batters struggled, and with the dew coming in, England experienced a false dawn — Siraj bowled too full and the boundaries flowed from the bat of Dawid Malan.A score of 26 for no loss after four overs during a tricky chase can always soothe the nerves. To be fair, it was over before England could say 'Boom, Boom' in tune with the MC here at the Ekana stadium.
Fifth ball of the fifth over, Bumrah, always questioning with that in-between, just short of good length deliveries, got Malan to chop on, with the batter shaping up for a cut shot and finding no room.Next ball, Joe Root — with his poor returns whenever he comes out to bat between overs 1-10 already the talk of the town — was plumb leg-before. Pitched up, skiddy, keeping low, stuck flush on the pads in front of the stumps. Bumrah leapt high and punched the air. Fifty thousand people at the Ekana stadium heaved in unison andlet out a collective yell of triumph. Root trudged off, but not before wasting a DRS call.

Up next, eighth over, a Shami masterclass for Ben Stokes. Around the wicket to the left-hander, angling in, then seaming away. The batter, left repeatedly frustrated by the back-of-a-length deliveries, eventually looked to hit his way out of jail. The ball was fuller and it clattered the exposed stumps. A 10-ball duck. Shades of Virat Kohli's impatient 9-ball duck earlier in the day. England 33/3.First ball of Shami's next over, Jonny Bairstow, on the backfoot, dragged one on to the stumps. Shami was on a hat-trick now. England were 39/4 and the game was virtually dead in 9.1 overs.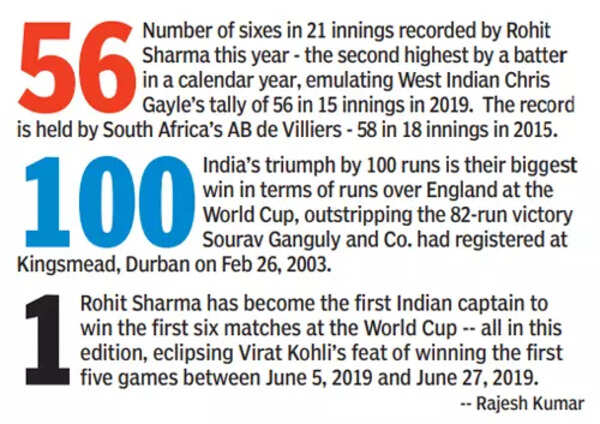 Any hopes of a rebuilding phase were nipped in the bud by leggie Kuldeep Yadav snaring Buttler and Livingstone. Even with the dew setting in heavily, the spinners were not easy to get away. India too had lost a flurry of early wickets when they batted, but the perspicacity of Rohit Sharma (87 off 101 balls; 10×4, 3×6) and his sheer skill with the bat saved the day. KL Rahul contributed in a 91-run partnership to resurrect the innings before a fluent Suryakumar took the score to safety. The rest were unable to soak up the pressure.
Where do India go from here? They have a few important pointers after having batted first for the first time in this tournament. They need to play the waiting game better. The addition of Suryakumar adds punch to the lineup. They cannot drop Shami now, on any surface.